About Serotalin®
Welcome to your happiness laboratory
We want to make people happier! Our goal is to help you to fully develop your potential and to go through life full of energy and well-being. That's why we, as lucky experts, develop scientifically based nutritional supplements for your path to happiness.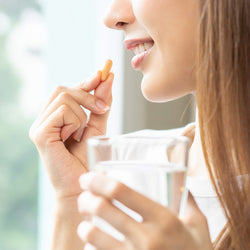 Our promise
YOU DESERVE TO
BE
HAPPY!
That is why we attach great importance to the quality of our products. Our products are developed and manufactured in Germany using innovative processes. They have been awarded the 'GMP Quality' seal and are also vegan, free from lactose, gluten and genetic engineering.
#BEHAPPY
WHAT MAKES
PEOPLE
HAPPY
"Happiness" describes a state of contentment and well-being. A very subjective mood, which is shaped by many factors. Happiness is not about possessions and wealth, but rather the way we live our lives each day. Sometimes, however, our own body prevents us from structuring our lives in the best possible way, maintaining and deepening relationships, celebrating success and achievements or doing something meaningful. We are held back because we lack energy and drive. Because we are anxious and not optimistic about that
look to the future. Or because we lie awake all night and have to start the next working day weak and tired the next day. This is exactly where we come in with our dietary supplements: by trying to optimally support energy, drive, serenity, balance, a positive mood and good sleep with serotalin® products. serotalin® is a simple first step on the way to a happy self. We would like to accompany you on these steps.
HAPPY GREETINGS,
Founder of Serotalin
That's how it started with Serotalin®
»IT ALL STARTED
WITH

MY

ADHD

DIAGNOSIS«

At the same time, this was my greatest motivation to start looking for treatment alternatives. My reality at the time: an endless tour of doctor's offices and the same way over and over again of using medication to suppress the symptoms for a short time instead of curing them permanently.

It even went so far that the medication caused chronic esophagitis at the time. And the answer of the attending physicians: Take additional medication. Possibly with other side effects and the whole thing for a lifetime. That was the moment when I made the decision to take a different path: I stopped all medication and after a month I had no side effects.

Alongside my studies, I began to deal with brain chemistry and metabolism in the nervous system to find out how this could help me. Within a few months I had solved my ADHD problem myself with individual amino acids and certain nutrients. From this first, life-changing success, Serotalin® was born.
Excellent & innovative
Winner of the OTH Regensburg Founder's Prize, we benefit from the university's network. We were also awarded the seal of the Certification Office for Research Allowance (BSFZ) for in-house research and development for our spirit of innovation. At the same time we use the possibilities and the know-how of the BioPark in Regensburg . As part of this network of strong partners, our greatest motivation is to use innovative products to develop unique solutions for happy customers.
From the serotalin® high-tech happiness laboratory
We make people happier by harnessing the complex neurochemical processes in the central nervous system with our products. Of the many neurotransmitters, we focus on four in particular: serotonin, dopamine, GABA & melatonin.

We do not fall back on the standard, but consciously break new ground. This is how we develop our products in the BioPark Regensburg together with our partners. We use innovative in-silico simulation for our product development. With this method, we determine the effectiveness of the composition of active ingredients with the aid of a computer.
Products that make us happy
HAPPY KNOWLEDGE
#SEROTONIN
THE MOOD ENHANCER
Serotonin is called the "happiness hormone" for good reason, because it influences our well-being and our performance, among other things.
#MELATONIN
THE SLEEP HORMONE
Melatonin influences our sleep-wake cycle and makes us tired. The natural sedative is formed from serotonin.
#GABA
MORE HARMONY
GABA (gamma-aminobutyric acid) is one of the most important calming neurotransmitters and a natural relaxant and anti-stress agent.